African players not committed towards country: Okorie
Players' lack of commitment towards their national teams is the reason why African sides have fared poorly in the ongoing FIFA [ ] World Cup says former Nigerian striker Chima Okorie.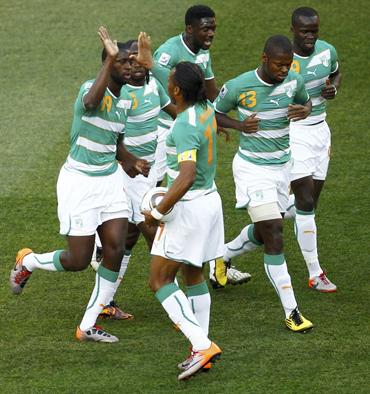 Except for Ghana no team from the African continent could advance to the second round and South Africa [ ] became the first ever host team to crash out in the opening round itself.
"This year African teams are not very good. Only one is going to the next level. They are just not good enough. They play well for their clubs but do not want to play for their national teams," Okorie said.
"Organisations in Africa are not what they should be. There is no cohesion in Africa. Federations are very corrupt. Corruption makes them choose people who are not good enough," Okorie, who played for Indian clubs like Mohun Bagan and East Bengal, added.
The 41-year-old Nigerian, one of India's [ ] most successful foreign recruit in his times and now engaged as a football expert for the World Cup with English channel News X, believes that Spain have it in them to lift the trophy.
"Argentina is my favourite team but my money is on Spain."
Okorie said Argentina are equipped with supremely talented players like Lionel Messi [ ] and Sergio Aguero [  ], who is coach Diego Maradona's [  ] son-in-law.
Okorie, who also coached Mohun Bagan and Osians New Delhi [ ] Heroes, said he was hardly surprised to see the favourites being ousted by underdogs this year.
He contended that players of the most of the teams are more or less of same standard and that's why there was no outright favourite.
"I'm not surprised. This year most of the players are decent. Nobody is really playing well. They are not above each other. Most of the players play at the same level. There are no footballing superpowers anymore," he said.
Talking about Indian football, he said, "India needs to build a good foundation. Nobody in India thinks it is really necessary to build a strong foundation. Football authority in India is in a mess. People have no vision. No clue at all.
"Clubs in cities like Kolkata [  ] are not able to train youngsters. They don't realise that training methods have changed. They have to become more scientific," he said.
© Copyright 2010 PTI. All rights reserved. Republication or redistribution of PTI content, including by framing or similar means, is expressly prohibited without the prior written consent.