England denied as ball crosses line off bar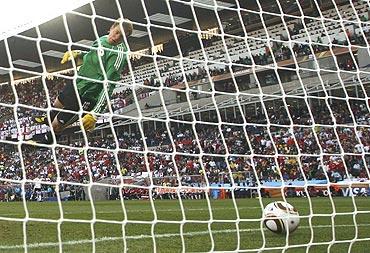 England [ ] were denied an equalising goal in their World Cup second round match with Germany [ ] on Sunday when a Frank Lampard [ ] shot from 20 metres out hit the crossbar and dropped well over the line.
With England just having pulled a goal back after Germany had taken a two-goal lead, Uruguayan refereee Jorge Larrionda decreed the ball had not crossed the line. A television replay showed it clearly had.
The incident drew comparison with the third England goal from Geoff Hurst in the 1966 final against West Germany, which Germans still say never crossed the line after his shot came down off the crossbar. England went on to win 4-2.
However on Sunday, England were on the losing end, with a dismal 4-1 margin.
Source:
© Copyright 2010 Reuters Limited. All rights reserved. Republication or redistribution of Reuters content, including by framing or similar means, is expressly prohibited without the prior written consent of Reuters. Reuters shall not be liable for any errors or delays in the content, or for any actions taken in reliance thereon.