England, USA make it to Round of 16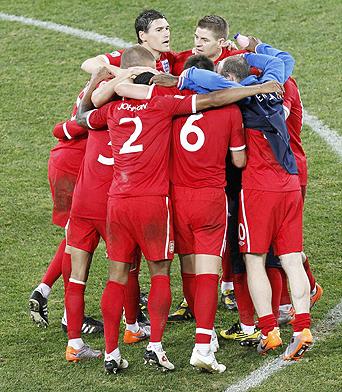 Jermain Defoe's opening half goal helped England scrape past Slovenia 1-0 and enter the knockout stage of the FIFA World Cup here today after securing the runners-up spot in Group C.
The impressive Slovenes, however, crashed out of the tournament after the United States scored a late-winner over Algeria to secure the took top spot in the group. 
Starting in place of misfiring Emile Heskey, Defoe turned out to be England's unlikely hero when he found the match-winning goal in the 23rd minute.
England started the game on a positive note and enjoyed better ball possession and sparkled with sharp passes. 
But Slovenia had the first shot on goal, probably their best chance in the opening half, when midfielder Valter Birsa's drive in the seventh minute was saved by English goalkeeper David James. 
Image: 
England team huddles after the 2010 World Cup Group C soccer match between Slovenia and England in Port Elizabeth
Photographs: 
Reuters