England's poor World Cup campaign comes to an end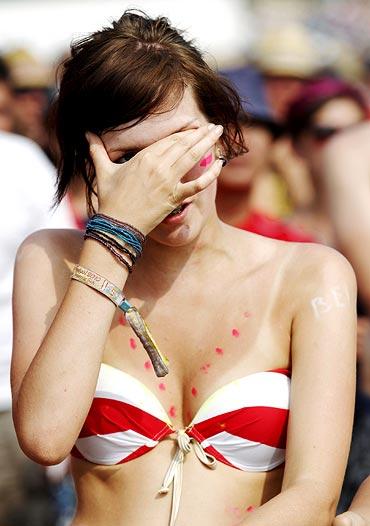 England can argue for as long as they like about the goal that never was, but ultimately it was the team that never turned up that brought their poor World Cup campaign to an end against old rivals Germany.
The biggest talking point of a dramatic, stunning second round match at the Free State Stadium which Germany won 4-1 came after 38 minutes when a Frank Lampard shot bounced off the crossbar and a metre over the goalline without the Uruguayan referee Jorge Larrionda or his compatriot, linesman Pablo Fandino, seeing it clearly enough to award the goal.
The incident came at a crucial moment and would have put England level at 2-2.
However, the distinct feeling was that even if the goal had been allowed it would not have made much difference to the outcome or stopped Germany advancing to the last eight.
Photographs: Reuters
Image:
An England fan reacts after the loss against Germany
Source:
© Copyright 2010 Reuters Limited. All rights reserved. Republication or redistribution of Reuters content, including by framing or similar means, is expressly prohibited without the prior written consent of Reuters. Reuters shall not be liable for any errors or delays in the content, or for any actions taken in reliance thereon.