Evra out of South Africa match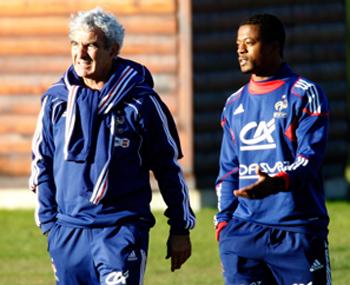 French captain Patrice Evra [  ], leader of a revolt that has brought his side close to disintegration and caused an outcry at home, was not included in the team to face hosts South Africa [  ] on Tuesday, in which both nations need a miracle result to salvage some honour.
South Africa are on the brink of the worst ever performance by World Cup hosts and former champions France [  ] are torn by one of the most extraordinary scandals seen in a World Cup.
A players' rebellion in the French camp, which has disgusted fans at home, has opened up a slim chance for the local Bafana Bafana team who need a large score to reach the second round.
Even then, it would depend on Mexico and Uruguay not drawing in the other simultaneous Group A match in Rustenburg.
"The miracle is going to happen. We are going to win for sure!" said Michael Rorwana, a 28-year-old cleaner among excited fans preparing to attend the game at the normally staid judicial capital Bloemfontein's Free State stadium.
France, champions in 1998 and runners-up in 2006, also desperately need to win go through or at least salvage some of their tarnished reputation after being pilloried by their domestic press and politicians as spoilt, overpaid brats.
The scandal, sparked by Nicolas Anelka [  ] being sent home for insulting coach Raymond Domenech, deepened when Domenech said some rebels might be unwilling to even play on Tuesday, a threat apparently carried out by Evra.
Evra's absence was among six changes from the team which was earlier defeated by Mexico.
"Words would not help now, we need action," Domenech said. "The players must bring answers on the pitch. How they will be remembered depends on how they will fare against South Africa."
Sports Minister Roselyne Bachelot, dispatched by President Nicolas Sarkozy [  ] to try to end the shambles, told the players they had tarnished the nation's image.
Source:
© Copyright 2010 Reuters Limited. All rights reserved. Republication or redistribution of Reuters content, including by framing or similar means, is expressly prohibited without the prior written consent of Reuters. Reuters shall not be liable for any errors or delays in the content, or for any actions taken in reliance thereon.