FIFA chief Blatter apologises for referee errors at World Cup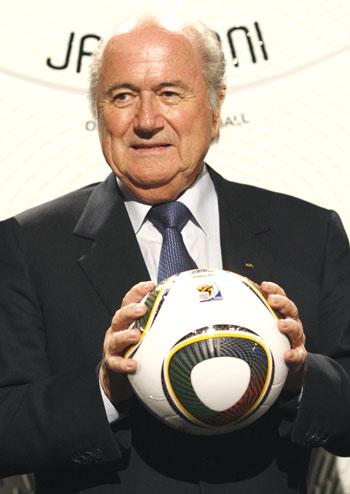 FIFA [  ] president Sepp Blatter [  ] apologised on Tuesday for the refereeing mistakes that have blighted the World Cup and promised to look again at introducing goalline technology.
"It is obvious that after the experiences so far at this World Cup it would be a nonsense not to re-open the file on goalline technology," Blatter said at a briefing with selected media on Tuesday.
"I deplore when you see the evident referees' mistakes. It has not been a five-star game for referees. I am distressed by the evident referees' mistakes. I have expressed my apologies."
The issue came the fore after two important decisions at World Cup matches in South Africa [  ] on Sunday were shown by instant replays to be incorrect.
First a shot from England [  ] midfielder Frank Lampard [  ] that clattered against Germany's crossbar and bounced down well over the line when England, chasing a comeback, were 2-1 down.
Germany [  ], clearly rattled at the time, went on to win the second round match 4-1.
In the later game, Mexico had been enjoying the better of the game against Argentina when Carlos Tevez opened the scoring from a clearly offside position, setting Diego Maradona's [  ] side on their way to a 3-1 win.
"I have apologised to the two delegations," Blatter said.
Source:
© Copyright 2010 Reuters Limited. All rights reserved. Republication or redistribution of Reuters content, including by framing or similar means, is expressly prohibited without the prior written consent of Reuters. Reuters shall not be liable for any errors or delays in the content, or for any actions taken in reliance thereon.