German skipper Lahm practiced penalties with his mother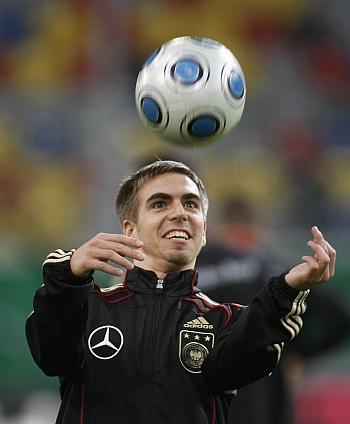 German skipper Philipp Lahm practiced penalties with his mother since he was a kid, and may reap the results if the clash with England [ ] goes the same way as the previous two meetings at major tournaments.
The Germany [ ] defender used to beg his mother Daniela to face up to his strikes from 12-yards in the front garden of his home in Munich.
"My mother always had to come out and play with me in the driveway that led into the yard, so I could take some penalties. I'd put her in goal and she would get pretty peeved when she failed to save some of the shots. I'd be saying, 'Come on mum, dive!'
"She never did and that was a good thing as we were playing on concrete! We had great pressure on us against Ghana but we handled it. For us it was a special game because we wanted to reach the knockout stages," News of the World quoted Lahm, as saying.
"The match against England will be a classic. The anticipation for this one is huge. We look forward to it with confidence but we know we have to improve on some things," he added.
Lahm warned England not to expect to face a replica of the old German sides, which often played a much more conservative game.