I have 23 top players and they are all ready'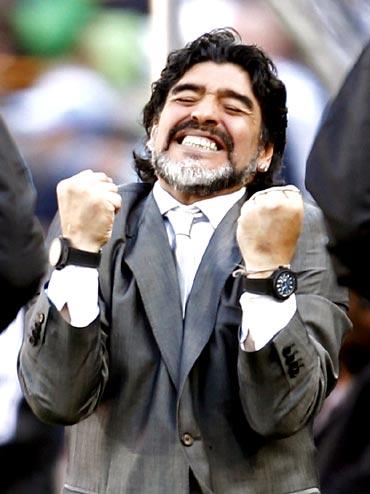 Image: Argentina's coach Diego Maradona celebrates
Argentina led a South American charge that makes them by far the most successful region in the tournament so far, with five wins and two draws from seven matches.
World Player of the Year Lionel Messi and his attacking midfield sidekick Carlos Tevez were again inspirational.
"Korea were never capable of controlling us," said Argentina coach Diego Maradona. "Of course, they scored but they were never able to dominate any part of the match.
"I have 23 top players and they are all ready to put on the jersey and work on the pitch and that makes you happy and then you have peace of mind," he added.
Argentina, seeking a third title after triumphs in 1978 and 1986, could take heart from the performance of substitute Nicolas Burdisso who was outstanding in defence after replacing the injured Walter Samuel in the first half.