Labour unions threatening to embarrass government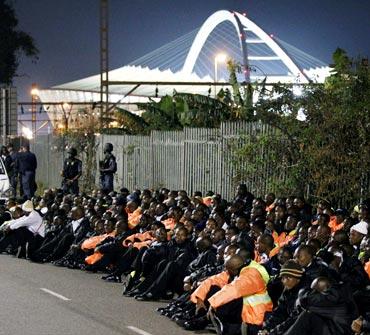 Image: Security personnel are held by police in Durban
Off the field, labour unions are threatening to embarrass the South African government by interrupting power, transport and security operations if their wage demands are not met. Police have had to take over security at four stadiums.
Hooliganism has been avoided however, with various potential troublemakers from England blocked from entering, and another 17 "undesirable" Argentines deported on Wednesday.
South Africa's glowing pride will not disappear even if Bafana Bafana are eliminated. They have so far earned huge kudos by successfully staging Africa's first World Cup, confounding pessimists at home and abroad who predicted for years that it would be a disaster scarred by major crime.