Nigeria downplay death threats to Kaita
Nigeria have played down the threats on the life of midfielder Sani Kaita, suggesting the scare might be the result of a misunderstanding over the use of language in the West African state.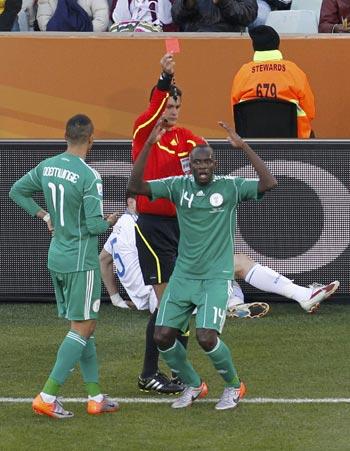 Kaita was dismissed for kicking a Greek defender on the touchline last Thursday as Nigeria lost 2-1 to Greece, their second defeat at the World Cup.
On Sunday, team spokesman Peterside Idah said the player had received "more than 1,000 threats to his email from within Nigeria" and the team were "taking these threats very seriously".
"There's nothing official that's really come out that there's been a threat on Kaita's life," Idah said on Monday.
"It's just rumours and his friends talking about it. There's nothing official that we can begin to panic.
"In our language, if we say 'we will kill you', it means we are not happy with you. If a German hears 'I will kill you', it means you are dying next week. We really need to clear up this matter."
Midfielder Dickson Etuhu said although the players sympathised with Kaitu, they would not allow the threats, real or rumoured, to impact on their decisive Group B match against South Korea on Tuesday.
"At the end of the day of, we are all professionals and we have been playing under pressure for a long time," he said. "We have to deal with it.
"Football is a passionate game and people sometimes say silly things."
Source:
© Copyright 2010 Reuters Limited. All rights reserved. Republication or redistribution of Reuters content, including by framing or similar means, is expressly prohibited without the prior written consent of Reuters. Reuters shall not be liable for any errors or delays in the content, or for any actions taken in reliance thereon.