North Korea a tenacious and a fit side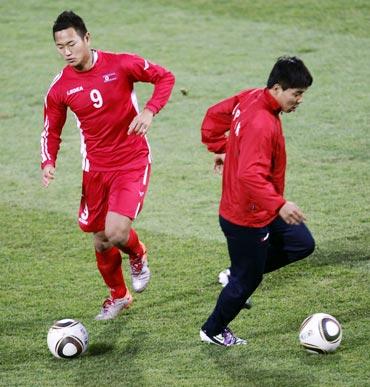 With all but three of their players based at home, Korean coach Kim Jong-Hun has been free to organise his team's preparations without the hindrance of club commitments.
The North Koreans, playing their first World Cup match since losing 5-3 to Portugal in the 1966 quarter-final, are tenacious, fit and defensive-oriented, say coaches who have studied them.
"They defend very well, create a lot of complications and are very fast on the counter-attacks," Paraguay's Gerardo Martino said after his team beat North Korea 1-0 in a friendly in Switzerland last month.
"Nobody talks about them but they play good football and physically are very fit. They have been in a training camp for six months maybe," added Sven-Goran Eriksson, whose Ivory Coast team are also in Group G.
"You don't see them getting tired. Even in the second half, they just go on," said the Swede.
Image:
North Korean players during a warm up session