Ozil's goal ensures Germany make it to Round of 16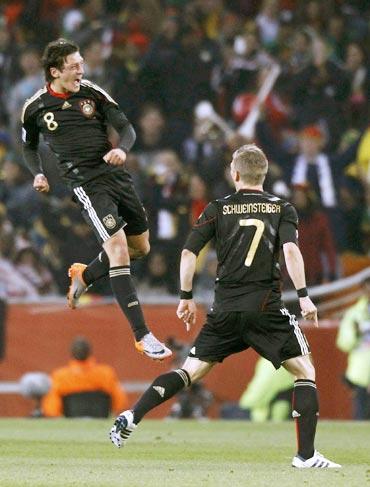 Pragmatic Germany had to revert to old-school tactics to see off an outstanding Ghana team 1-0 on Wednesday and reach the second round of the World Cup.
Fighting for their future in the tournament after a tame defeat against Serbia, Germany were dumbfounded in the first half against at Soccer City, as the Africans matched them all over the field.
With Michael Ballack, the team's inspiration on so many occasions, missing from this tournament through injury and striker Miroslav Klose suspended, it fell to the youngster Mesut Ozil to earn the win with a moment of pure brilliance, as he lashed a shot into the top corner from outside the box.
Image: 
Mesut Ozil celebrates after scoring against Ghana
Photographs: 
Reuters
Source: 
© Copyright 2010 Reuters Limited. All rights reserved. Republication or redistribution of Reuters content, including by framing or similar means, is expressly prohibited without the prior written consent of Reuters. Reuters shall not be liable for any errors or delays in the content, or for any actions taken in reliance thereon.