Put your ego in your pocket, guys!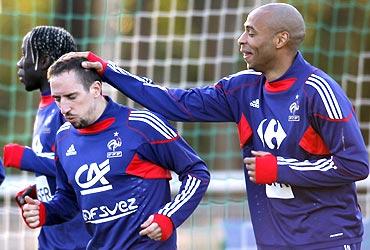 Dear Ivan:
Just to let you know my latest views on the World Cup.
You remember our national hero, Zizou, alias Zinedine Zidane who left the last World Cup after the most famous 'Coup de boule' in the history of world football?
When he headbutted Materrazi, everyone screamed that it was not good, but for Zizou it was what you would call in India an 'honour Coup de boule', the nasty Italian had said bad things about Zizou's mom.
Now four years down the line, Zizou has become wiser. After the French opening match against Uruguay and the French (please note, I don't say 'our') struggle to earn a 0-0 draw, Zidane explained that during a World Cup, players (and coaches) were 'to put their ego in their pocket'.
Too many egos! too many individualities! It is not only true for France, but most 'great' teams with 'great players'. Zizou believes that 'the collective spirit must be displayed by the team'. He rightly said: 'A World Cup is very short; many will never play again, forget your ego and work together for the team'.
Probably nobody will listen to the wise man. Domenech, 'our' coach, only listen to his girlfriend, but as we have seen in the case of Japan vs Cameroon, when a team is able to work together, even far superior players can bite the grass.
With vuvuzelas,
Claude
Image: France's Thierry Henry, right, with Franck Ribery, centre, during a training session at Clairefontaine, near Paris, before the World Cup. Photograph: Charles Platiau
Claude Arpi