Rooney says sorry for rant on camera
England's short-tempered striker Wayne Rooney apologised on Saturday for his outburst at fans who booed the team's abject 0-0 draw with Algeria.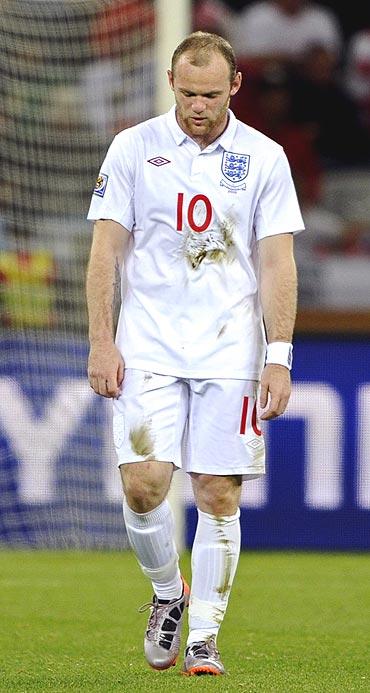 Fresh from a fantastic season for Manchester United , the 24-year-old was England's main hope for World Cup goals but has failed to score in their two Group C draws so far against the US and Algeria.
Rooney barely got a sniff against Algeria on Friday night and reacted sarcastically to a TV camera when coming off the pitch to jeers from England fans furious with their team.
"Nice to see your home fans boo you. That's what loyal support is," Rooney said in comments that heightened the furore at home over an England performance devoid of passion or guile.
With a possible behind-the-scenes nudge from his stern manager Fabio Capello , the centre-forward moved quickly to limit the damage with a statement via England's Football Association.
"I am as passionate about the England team as anyone. Last night, on reflection, I said things in the heat of the moment that came out of frustration of both our performance and the result," Rooney said in the statement.
"For my part I apologise for any offence caused by my actions at the end of the game."
NATURAL AGGRESSION
Rooney urged supporters to stick with the team into next week's match against Slovenia which England must win to guarantee reaching the second round in South Africa .
"The most important thing now is to regroup, be positive and work towards winning the game on Wednesday," he said.
"To do this the players will need the support of the fans more than ever."
British media savaged Rooney on Saturday.
"Roo-boo-zela blows his top" was one headline in a play on the local vuvuzela horn.
Rooney's temper has long taxed coaches: his natural aggression makes him a normally lethal striker but means he is also at constant risk of a red card or other controversy.
At the last World Cup, he was sent off after a confrontation with Ronaldo  in England's quarter-final defeat by Portugal. They later lost in a penalty shootout.
Even though becoming a father was said to have mellowed him, Rooney showed just before this World Cup that his temper was still a problem when he was booked for verbal dissent in England's last friendly against local side Platinum Stars.