Scandal-hit France back in training after boycott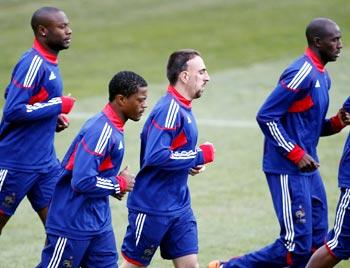 The troubled France [ ] team returned to training on Monday to prepare for their final Group A match against South Africa [ ], a day after boycotting a session in support of expelled striker Nicolas Anelka [].
All the France players turned up on the pitch at their World Cup base in Knysna, Western Cape, and prepared normally for their final training before Tuesday's game in Bloemfontein.
The players wore practice kits without any mention of their usual sponsors during the session. They did so to comply with tournament rules for sessions staged a day before a match, a team spokesman said.
Sponsors, however are starting to distance themselves from the scandal-hit team.
Bank Credit Agricole said on Monday it has cancelled its television campaign with the team and fast-foodchain Quick decided over the weekend to stop using an advertising film featuring Anelka.
Reporters were asked to leave after 15 minutes but a team spokesman said Monday's session went on normally.
"Everybody was there," he said.
That included fitness coach Robert Duverne, who had a heated exchange with captain Patrice Evra [ ] on Sunday after finding out that the players had decided not to train.
INSULTED COACH
Evra and his team mates had refused to train on Sunday to protest against the French Football Federation (FFF)'s decision to kick Anelka out of the squad after he insulted coach Raymond Domenech at halftime of a 2-0 defeat by Mexico last week.
Sunday's chaotic events also saw France team director Jean-Louis Valentin say he was resigning over what he called a scandal.
The furore prompted President Nicolas Sarkozy [ ] to step in, asking sports minister Roselyne Bachelot to prolong her stay in South Africa to speak to Evra, Domenech and FFF president Jean-Pierre Escalettes on Monday.
The French press heaped scorn and derision on Les Bleus on Monday, lining up to denounce the players, coach and French federation for a crisis that all agreed had brought shame to the sport and the nation.
French football great Zinedine Zidane [  ] also criticised the actions by some of his former international team mates.
"There's two things that will be remembered from this World Cup -- the winner and the fact that the French team refused to attend the training session ahead of their match with South Africa," the now retired Zidane said in Johannesburg.
The team were to fly later in the day to Bloemfontein, where a news conference with the coach and one player was scheduled.
France, who have frustrated their fans with uninspired performances since their Euro 2008 [ ] flop and needed a controversial playoff win over Ireland to win a ticket to South Africa, are in great danger of making another early exit.
Only if they score a big win against the hosts on Tuesday and Mexico and Uruguay do not draw at the same time will they stand a chance of reaching the knockout stages.
Source: 
© Copyright 2010 Reuters Limited. All rights reserved. Republication or redistribution of Reuters content, including by framing or similar means, is expressly prohibited without the prior written consent of Reuters. Reuters shall not be liable for any errors or delays in the content, or for any actions taken in reliance thereon.a