Take a look at how some of the players celebrated after scoring at the ongoing World Cup in South Africa.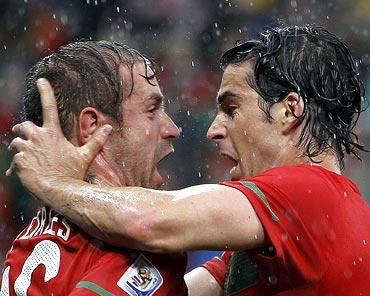 R
aul Meireles set Portugal on their way with the opening goal after 29 minutes that saw his team thrash North Korea 7-0 to give themselves an excellent chance of reaching the last 16 while ending the Asian team's hopes.
Portugal went on the rampage in the second half with three goals in a seven-minute spree from Simao Sabrosa (53rd), Hugo Almeida (56th) and Tiago (60th).
The score was completed with late strikes from Liedson (81st) and Cristiano Ronaldo in the 87th, his first for Portugal in two years, and Tiago again in the 89th.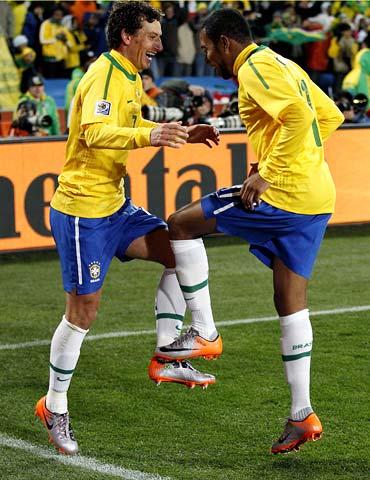 A

fter a lacklustre victory in their opening game against North Korea, Brazil were back to their magical best as they thumped Ivory Coast 3-0.
Two goals from Luis Fabiano and one from Elano sealed the win as Brazil flexed their muscles and showed why they are among the favourites to win the World Cup for a sixth time.

Image: Brazil's Elano (left) celebrates his goal with team mate Robinho
Tshabalala does the Diski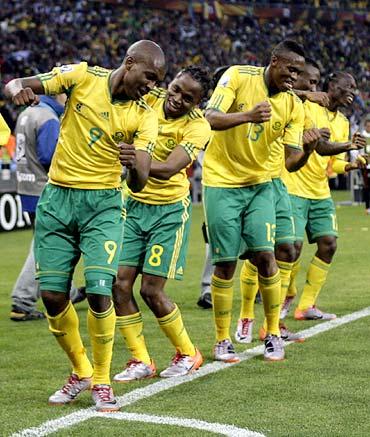 S

iphiwe Tshabalala's left foot thunderbolt rocketed his name into international football's conscientiousness with an impressive individual performance on the first day of the World Cup.
"The greatest goal and game of my career," the dreadlocked South African winger said of his strike in the 1-1 draw with Mexico at Johannesburg's Soccer City.

Image: Siphiwe Tshabalala (No. 8) dances with team mates after scoring against Mexico
'I know what it takes to win the World Cup'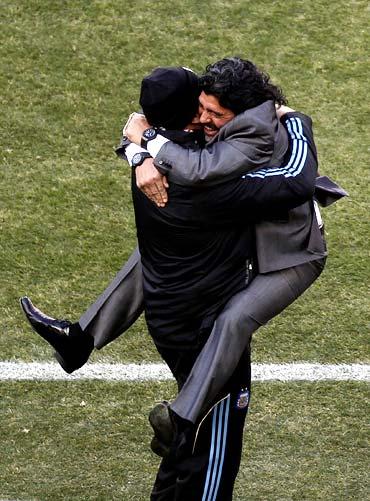 D

iego Maradona thrives on attention and continues to be acclaimed as one of the greatest players of all time, which is a recipe for keeping Lionel Messi out of the World Cup limelight according to critics.
The colourful coach, who in the qualifiers cut a forlorn figure as the players failed to carry out his plans and who seemed unable to find answers from the touchline, makes his presence felt at games from the pre-match warm-up onwards.
Ever since Argentina qualified for the finals at the last-gasp he has said: "I know what it takes to win the World Cup."
Image:
Argentina's coach Diego Maradona (right) celebrates his team's third goal with a member of his coaching staff
Gyan rocks for Ghana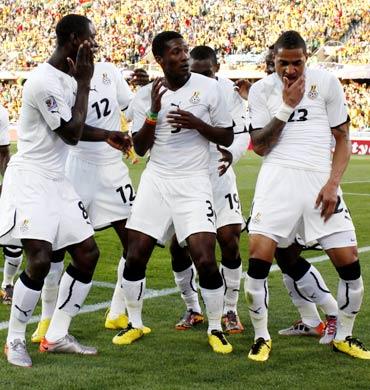 A

samoah Gyan has proved to be the top player for Ghana. Both of Ghana's goals have come from Gyan's penalties and despite looking dangerous going forward, they wasted chances through wild crosses and poor finishing.
The Black Stars top the group with four points after Saturday's 1-1 draw with Australia and the opening 1-0 win over Serbia but they face a Germany side next who have a point to prove after a surprise defeat by Serbia.
Image:
Ghana's Asamoah Gyan (No. 3) celebrates his goal with team mates
Koren celebrates Slovenia's first win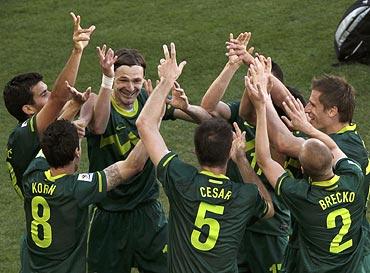 C

aptain Robert Koren scored the winner as Slovenia beat Algeria 1-0 win to register their first World Cup victory.
"That means a lot to me and to everybody in the team," Koren said after the match.
"For such a small country, to go to the World Cup is already a big achievement, but for us it's a big thing today because we got our first three points.

Image: Slovenia's Robert Koren (No. 8) celebrates with team mates after scoring against Algeria
Forlan magic lifts Uruguay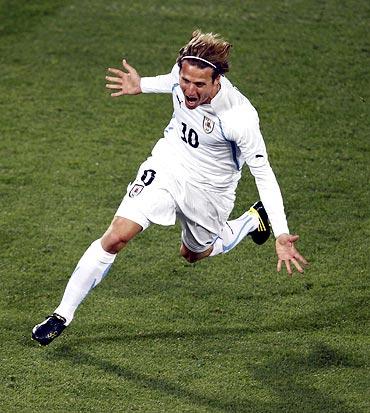 A

n inspired Diego Forlan scored twice as World Cup hosts South Africa's suffered a heavy 3-0 loss to Uruguay.
A 24th minute strike and then a controversial 80th minute penalty from Forlan, which saw home keeper Itumeleng Khune sent off after he was ruled to have brought down Luis Suarez, did the damage.
A last-minute header from Alvaro Pereira rubbed in the defeat and sent the despondent home support at the Loftus Versfeld rushing to the exits.
Image:
Uruguay's Diego Forlan celebrates his goal against South Africa
Hernandez continues family tradition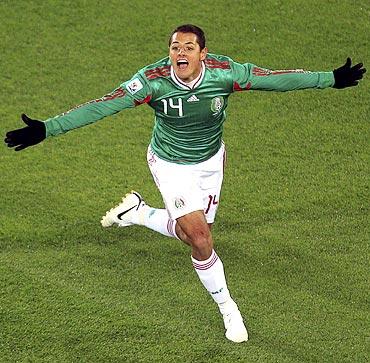 M

exico's Javier Hernandez literally followed in his grandfather's footsteps when he scored in the World Cup finals against France on Thursday.
Coming as substitute, Hernandez beat an offside trap, raced into the box unchallenged and twisted his way past France keeper Hugo Lloris to put Mexico ahead on 64 minutes.
The young forward's grandfather Tomas Balcazar scored the first goal against France in the 1954 World Cup, way before Hernandez was born, but the 22-year-old knew all about it.
"I'm delighted. The goal is for the whole country," a beaming Hernandez said.
Image:
Mexico's Javier Hernandez celebrates his goal against France
Fernandes gives Spain pain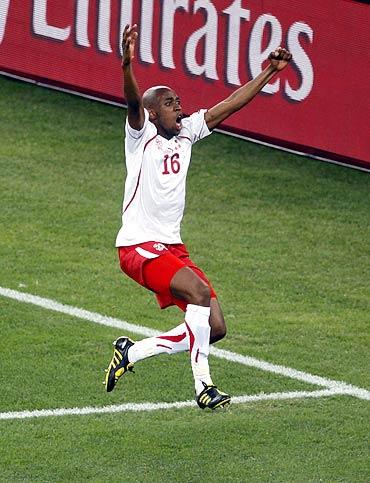 G

elson Fernandes described his goal for Switzerland in their shock World Cup win over Spain as the best of his career but was so tired he missed out on the team's post-game celebrations.
The midfielder, who is of Cape Verdean descent, seemed reluctant to be cast in the role of Swiss hero.
"It wasn't the nicest goal I've scored, but the best of my career. I don't score much, though. It was a good feeling to see the ball go in the net and we deserve it in a way because we worked hard, we ran a lot," he said.
"It is memorable to score against as good a team as the Spanish, because they have so many players of world class quality," he beamed, warming up to the questioning.
Image:
Switzerland's Gelson Fernandes celebrates after scoring against Spain
Bradley's raging roar of delight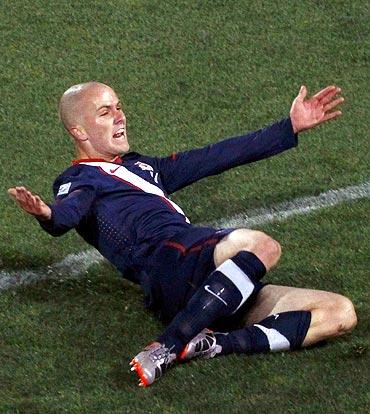 L

andon Donovan scored a brilliant individual goal three minutes after the break and as the Americans poured forwards, Michael Bradley, son of coach Bob Bradley, grabbed an equaliser eight minutes from time as the United States made a dramatic comeback from two goals down at halftime to draw 2-2 with Slovenia.
His goal against Slovenia was moment he celebrated with a raging roar of delight, having completed a comeback from two goals down, but he refuses to see the moment in personal terms.
"It was something special to be part of. We looked at each other at half-time and said that wasn't the way our tournament was going to end," he told reporters.
"The commitment from every guy to keep going and do everything we could to turn the game around - for me that was the best part of it, to celebrate that with your team-mates is the best feeling," he said.
Image:
Michael Bradley celebrates after scoring the equaliser against Slovenia