That unforgettable American summer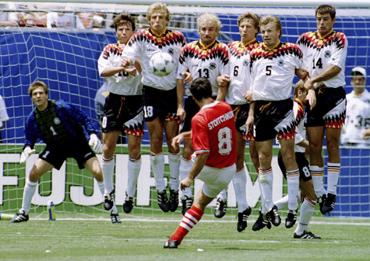 Bulgaria 2 Germany 1
The result still stands as Bulgaria's biggest international success in football, and still remembered as 'the unforgettable American summer.'
Hristo Stoitchkov had inspired the till then unheralded side to the last four at the 1994 World Cup.
Bulgaria's journey to the finals had begun when Emil Kostadinov had earned them a sensational victory over France in Paris with a goal from virtually the last kick of their final qualifying match in 1993.
And even if the Germans looked a safe bet to progress from their quarter-final tie at New York Giants stadium, Bulgaria never doubted their chances.
The defending champions went ahead courtesy a Lothar Matthaus penalty after half time.
Stoitchkov brought Bulgaria back into the game in the 75th minute.
However, the man who scored the decisive goal was journeyman midfielder Yordan Letchkov.
The Magician scored an audacious header with 12 minutes to play.
And Bulgaria made history while Germany made a hasty exit.
Image:
Bulgaria's Hristo Stoitchkov (8) kicking the ball past a wall of German defenders and goalkeeper Bodo Illgner (1) to score his team's first goal of their World Cup match at Giants Stadium