Tough clash against Portugal Portugal have lot to prove Elephants sweat over Drogba's fitness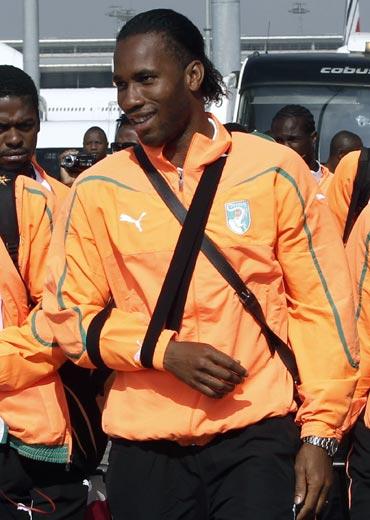 Although the Ivorians have plenty of talent, the absence of the inspirational Drogba, who scored an eye-popping 37 goals for Chelsea in all competitions last season, could complicate their chances of reaching the second round for the first time.
With no easy matches in the group, the key question facing their Swedish coach Sven-Goran Eriksson is whether the Elephants can afford to hold Drogba back for later games.
The striker has resumed training after having surgery on a broken arm sustained on June 4 but Eriksson might have to draw on his contingency plans if his leading marksman is not fit.
Kolo Toure, who will captain the team if Drogba does not play, believes younger players like Salomon Kalou and Seydou Doumbia have the ability to step into the void.
"The Ivorian squad is made up of some world class players but football remains a team game," Toure said.
"Since he has taken over the squad, the coach has been trying to build a proper team and we are on track," he added.
Image:
Dider Drogba