Villa on song as Spain beat Chile to take top spot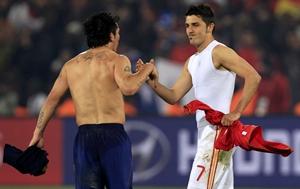 An inspired David Villa [ ] scored one sublime goal and created another for Andres Iniesta [ ] as European champions Spain beat 10-man Chile 2-1 and advanced to the last 16 of the World Cup on Friday.
Striker Fernando Torres [ ] raced after a Xabi Alonso [] punt down the left and although keeper Claudio Bravo raced out and managed to make the clearance he found himself horribly stranded.
The ball fell straight to Villa wide on the left and he took one sight of goal and curled a stunning shot from 40 metres into the empty net.
Spain doubled their lead and Chile were reduced to 10 just under 10 minutes before the break.
Iniesta played the ball wide to Villa, ran on to the striker's return pass and slotted clinically beyond Bravo from just inside the penalty area.
As the Spanish players celebrated, Chilean midfielder Marco Estrada, who had already picked up a yellow card, was shown another and dismissed after he appeared to catch Torres's heel off the ball, sending the striker tumbling to the ground.
The Chileans looked down and out at halftime but pulled a goal back two minutes after the break when a shot from substitute Rodrigo Millar looped up off Gerard Pique's [ ] leg and over keeper Iker Casillas [ ] into the net.
As the clock ticked down, Spain dominated possession easily enough and were not seriously troubled by a toothless Chilean attack.
Source: 
© Copyright 2010 Reuters Limited. All rights reserved. Republication or redistribution of Reuters content, including by framing or similar means, is expressly prohibited without the prior written consent of Reuters. Reuters shall not be liable for any errors or delays in the content, or for any actions taken in reliance thereon.