'We had some luck and we improved through the game'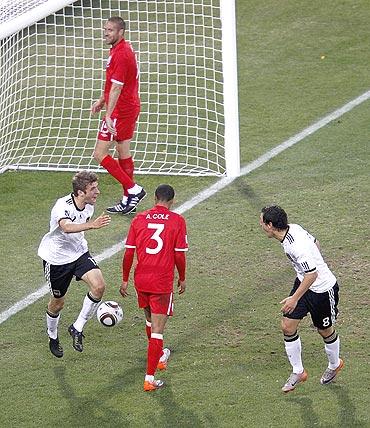 Germany, fuelled by a second half double from Thomas Mueller, thrashed long-standing rivals England 4-1 in a controversy-filled encounter on Sunday to book a spot in the last eight of the World Cup.
Slick counter-attacking combined with clinical finishing saw the Germans overwhelm England's shaky-looking defence and put Germany through to a quarter-final clash against either Argentina or Mexico who play later on Sunday.
"Against England you'll give up goal chances at some point. They have so many good players," Mueller said.
"We had some luck and took the lead. After we went 3-1 up, we improved and the match was soon over after that."
Image:
Thomas Mueller (left) celebrates with Mehsut Ozil after scoring
Photographs:
Reuters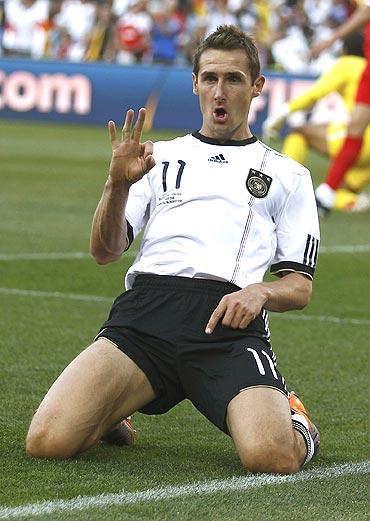 Striker Miroslav Klose, who scored Germany's first, praised his "first-rate team."
"I was very impressed with the performance today. In this match we were on top of things from the start, we were totally into the match and we deserved to win," he said.
"We'll see how we do in the next match. Our goal is to get the semi-finals. We'll see what happens from there."
Germany fully deserved their victory but the game will also be remembered for a controversial decision late in the first half which denied England an equaliser with the game at 2-1.
A shot from midfielder Frank Lampard struck the crossbar and the ball bounced well behind the goal line, but the referee waved play on.
Image:
Miroslav Klose celebrates after scoring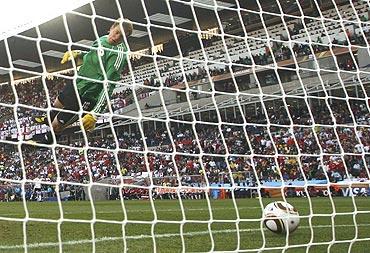 "It was the most important part of the game," England coach Fabio Capello said of the decision.
"We made some mistakes and the referee made one big mistake but Germany played a good game. Little things decide the result of these matches always. We played well up to 2-1 but after the third goal we were disappointed."
In a frantic first half Germany took a deserved 2-0 lead, repeatedly exposing their opponents' defensive shortcomings with some mesmerising high-paced play.
Klose, back from a one-match suspension, snatched the lead in the 20th minute, catching the English defence napping and chasing down German keeper Manuel Neuer's deep goal kick to slot home his 12th goal in World Cup tournaments.
They could have added another just before the half hour mark but Klose was denied by keeper David James.
Image:
German keeper Manuel Neuer watches as the ball crosses the goal-line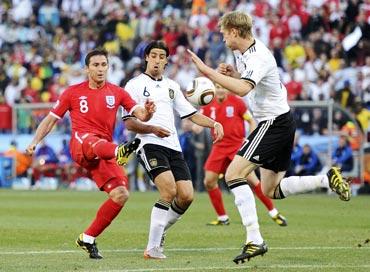 Striker Lukas Podolski made amends for his teammate's miss in the 32nd minute with a fierce low drive after a sublime combination of passes via Mueller and Mesut Ozil to give them a two-goal cushion.
Lampard failed to pull one back minutes later, firing at Neuer from close range and Philipp Lahm clearing in front of goal. But Matthew Upson did get on the score sheet, heading in a Steven Gerrard cross, with Neuer completely missing the ball, to cut the deficit in the 37th minute.
England should have been awarded a second goal only a minute later when Lampard's shot bounced off the bar and well behind the goal line but Uruguayan referee Jorge Larrionda waved to play on.
England came out fighting in the second half and hit the bar again with a fierce Lampard free kick seven minutes after the restart but Mueller ended their hopes with two goals in three minutes to cap a memorable performance for the youngster.
Image:
England's Frank Lampard (left) tries to score past German defenders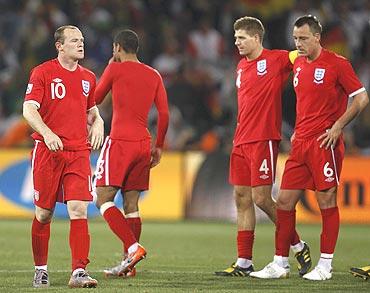 The English trooped despondently off the pitch knowing that yet again they had succumbed to the Germans, though not in the cruelly close circumstances of their penalty shootout defeats at the 1990 World Cup and the 1996 European championship.
Even though England beat Germany to win the 1966 World Cup, the old joke - "England invented football, but Germany win it" - will still hold after Saturday's events.
German Chancellor Angela Merkel and British Prime Minister David Cameron took time out from the G20 summit in Canada to watch the match together.
"This was a fantastic game and a fantastic victory," Merkel said, adding that Cameron had congratulated her and the match was viewed in "a very nice sporting atmosphere."
Image:
England's Wayne Rooney (left), Ashley Cole, Steven Gerrard and John Terry wear a dejected look
Source:
© Copyright 2010 Reuters Limited. All rights reserved. Republication or redistribution of Reuters content, including by framing or similar means, is expressly prohibited without the prior written consent of Reuters. Reuters shall not be liable for any errors or delays in the content, or for any actions taken in reliance thereon.