We have failed our supporters: Malouda
French striker Florent Malouda [ ] has said that the training-ground revolt following the axing of teammate Nicolas Anelka [ ] was a disaster, and added that France [ ] has been a disgrace as they were out of the World Cup.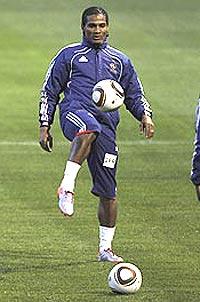 France lost 2-1 to South Africa on Tuesday after skipper Patrice Evra [  ] was dropped from the team following the revolt over Anelka's expulsion from the squad.
Chelsea star, Malouda said: "The way people see France right now is a disaster and we, as players, are the first responsible for that."
"We have failed from the sport's point of view and outside the sport in the image we've shown," The Sun quoted Malouda, as saying.
"I don't know if it's going to be possible but we have to work hard to restore the image of the French national team in the world," he said.
Malouda admitted it was stupid to refuse to train 48 hours before the game in protest due to the Anelka bust-up.
He added: "Yeah, it was a complete disaster. We didn't know it would affect so many people."
Meanwhile, skipper Patrice Evra, who was axed from the team for South Africa [ ] tie, apologized to the fans.
"It's time to say sorry. I apologise to the fans. The French people need to know the truth. There's no reason why I wasn't on the pitch," he said.