'We were better than Portugal'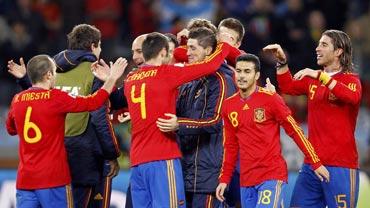 Spain marched into the quarter-finals in their own inimitable style on Tuesday when another display of patient, precise passing let David Villa deliver a 1-0 win over a Portugal side left chasing shadows.
The match was billed as a meeting between the second- and third-ranked teams in the world but the 1-0 scoreline gave little sign of the real gulf between the Iberian neighbours.
The European champions now face Paraguay on July 3 and have a strong chance of reaching only their second World Cup semi-final and the first for 60 years.
"We always controlled the game but in the second half we were better than Portugal, we had greater depth in our game and we controlled very well," said Spain coach Vicente del Bosque.
Image:
Spainish players celebrate after beating Portugal to enter quarter-finals
Photographs:
Reuters