With Spain through, it's do-or-die time at the World Cup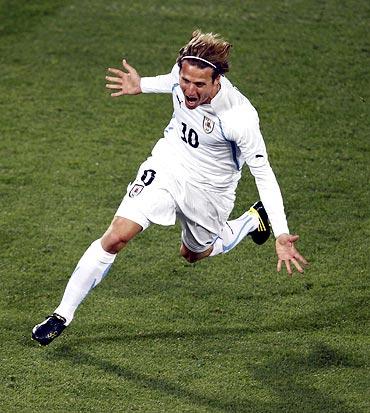 The do-or-die stage of the World Cup starts Saturday with the United States plotting to dash African dreams and Uruguay hoping to extend Latin America's remarkable run so far in the tournament.
After two weeks of increasingly exciting football in South Africa [  ], some huge names are out: Italy [ ] and France [ ].
Some smaller ones -- most notably Slovakia -- have triumphed against the odds to win a second round place.
Just sixteen teams are left, including Spain and Portugal who avoided the humiliation of fellow European powers France and Italy to book their places Friday. Spain beat Chile 2-1 while Portugal fought out a surprisingly drab draw with Brazil [].
Saturday's first knockout duel pits the defensive solidity and attacking flair of twice former champions Uruguay against the speed and slick passing of South Korea who have only once before made it out of the group phase when co-hosts in 2002.
With a place in the quarter-finals and a kind-looking draw awaiting the winner, South Korea are hungry but must shore up their fragile defence against a formidable Uruguayan attack of Diego Forlan [ ] lurking behind Luis Suarez and Edinson Cavani.
Uruguay are yet to concede a goal at the tournament, but Korean coach Huh Jung-moo was not intimidated ahead of the 1400 GMT kickoff in Port Elizabeth's Nelson Mandela [ ] Bay Stadium.
"The possibilities are open to everyone, the ball is always round," he said. "Italy, France can always be eliminated and small teams can always do well."
GHANA AFRICA'S HOPE
As the only remaining African team in the continent's first World Cup, Ghana carry the hopes of millions on their shoulders against the United States in Rustenburg later Saturday.
The failure of Africa's other five teams has prompted soul-searching around the continent and sucked some of the local joy and passion out of the tournament.
Ivory Coast were the latest African team to fail. Their talented players easily beat North Korea 3-0 Friday but that was not enough to prevent them coming third in Group G.
Kalusha Bwalya, a former African footballer of the year and president of Zambia's football association, said the continent's European-based players were failing to reproduce their club form when pulling on the national shirts.
"Maybe we're not playing the same 100 percent we do in our clubs because we're earning our bread and butter there," he said. "The African player has to be able to come home and deliver and I think this (world cup) is a wakeup call for us."
Though in the last 16, Ghana have hardly lit up the World Cup, scoring just two goals and those from penalties. They will need to find some better form to defeat a strong, passionate and well-organised U.S. team in Saturday's second match at 1830 GMT.
"I'm very emotional and I hope we can benefit from the support of all of the South African people and the continent of Africa," said the Black Stars' Serbian coach Milovan Rajevac.
A win for Ghana would match the feat of Cameroon and Senegal who reached the quarter-finals in 1990 and 2002 respectively in the best performances by an African side in the World Cup.
U.S. OUT FOR REVENGE
The US players will need no greater motivation than their 2-1 defeat to Ghana in Germany [ ] four years ago.
Buoyed by greater support than usual at matches and more viewers at home, the Americans feel on a roll but still have great respect for their opponents. "They're very athletic. We'll need to do a real solid job in terms of our team effort, our discipline," coach Bob Bradley said.
Next up at the weekend are two mouth-watering games on Sunday: Diego Maradona's [ ] Argentina against a highly skilled Mexico, and England [ ] versus their old rivals Germany.
New British Prime Minister David Cameron [ ] and German Chancellor Angela Merkel plan to take time off from discussing the world's problems at the G20 summit for that game.
They may even watch it together. "I will try not to wrestle her to the ground during penalties!" quipped Cameron.
In contrast to Africa's disappointment, only one Latin American team out of seven is flying home.
Honduras picked up their first point of the tournament against Switzerland [ ] in a 0-0 draw Friday night, but still finished bottom of Group H.
-
Source: 
© Copyright 2010 Reuters Limited. All rights reserved. Republication or redistribution of Reuters content, including by framing or similar means, is expressly prohibited without the prior written consent of Reuters. Reuters shall not be liable for any errors or delays in the content, or for any actions taken in reliance thereon