World Cup blunder refs not retained for late stages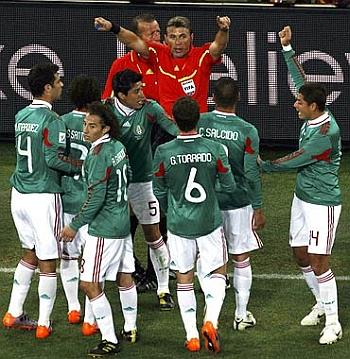 The referees at the centre of controversy in the Germany [  ] v England [  ] and Argentina v Mexico second round matches have not been retained for the remainder of the tournament, FIFA [  ] said in a statement on Tuesday.
Uruguayan Jorge Larrionda, who refused to award a clear England goal, and Italian Roberto Rosetti, who allowed an offside Argentina goal to stand, were the two most high profile names to leave the tournament at this stage.
England went on to lose 4-1 but at the time of the disallowed goal were 2-1 down, while Mexico were drawing 0-0 before Carlos Tevez's [  ] header stood.
The mistakes prompted FIFA president Sepp Blatter [  ] to announce that he had apologised to England and Mexico after the errors helped eliminate their teams from the World Cup.
"Naturally, we deplore when you see the evidence of referees' mistakes," said Blatter, adding it would be "a nonsense" for FIFA not to look again at goal-line technology with its rule-making panel.
"After having witnessed such a situation," Blatter said, "we have to open again this file, definitely. Naturally, we will take on board again the discussion about technology. Something has to be changed."
Two more left out for the remainder of the competition were Koman Coulibaly of Mali, who disallowed a third United States goal in a 2-2 draw with Slovenia, and French ref Stephane Lannoy who harshly sent off Brazil's [  ] Kaka [  ] for a  second yellow after Ivory Coast's Kader Keita ran into him while going for the ball.
Those left on the list include some from countries no longer involved in the competition.
England's Howard Webb has become one of the favorites to referee the final and so has Frank De Bleekere of Belgium, which didn't qualify.