Africa weeps, semi-finals beckon at World Cup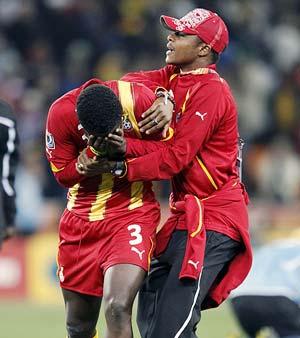 Millions of African fans mourned the agonising exit of Ghana, their last hope for World Cup glory, while four more nations stepped up to battle on Saturday for the remaining longed-for semi-final berths.
First, Diego Maradona's [  ] Argentina face an equally attack-minded Germany [  ] in a hard-to-predict grudge game.
Then Spain are favoured to overcome Paraguay in the day's second match to complete the quarter-final round.
The highest drama of the tournament unfolded at Soccer City on Friday night where Ghana's "Black Stars" came within an inch of becoming the first Africans ever into a World Cup semi-final.
With the score at 1-1 in the dying seconds of extra time, Uruguay's striker Luis Suarez stopped a certain goal by handling on the line. He was sent off and Ghana were awarded a penalty, but Asamoah Gyan hit the bar and the match went into a shootout.
Despite fanatical support for Ghana among the 84,000-strong African-majority crowd, Uruguay held their nerve better and won the penalty shootout 4-2. Gyan and others wept uncontrollably.
"We didn't deserve to lose in this way," Ghana's coach Milovan Rajevac said. "All I can say is this is football."
GHANA'S MISERY
In Ghana's capital Accra, fans were devastated.
"Oh Asamoah Gyan, Asamoah Gyan," groaned bar attendant Kofi Aboagye, removing a headband in the team's colours as he and the rest of the nation struggled to register what had happened.
Though the villain in African eyes, Uruguay's Suarez was hailed as a hero by team mates -- and back home in his nation of just 3.5 million people -- for sacrificing himself in what they said was an instinctive reaction any player would have done.
"It was worth being sent off in this way because at that moment there was no other choice," Suarez said. "I'm very calm."
Sharing some of Ghana's misery were five-times champions and perennial crowd-pleasers Brazil [  ], who surprisingly lost 2-1 to Netherlands in Friday's other quarter-final.
"I have to take most of the blame," said Dunga, bowing out as coach after his talent-packed side failed to deliver.
Old rivals Germany and Argentina have been goading each other in the run up to their game in Cape Town.
Argentina, the tournament's top scorers with 10 goals in open play, want to avenge defeat by Germany on penalties at the last World Cup. That game ended in an ugly brawl.
Germany midfielder Bastian Schweinsteiger tried to wind up the Argentines by accusing them of antics. "If you see how they gesticulate, how they try to influence the referee... that is not part of the game, that is a lack of respect."
Maradona, trying to cut a more statesmanlike figure these days than during his wilder youth, hit back dismissively: "What's the matter with you, Schweinsteiger, are you nervous?"
PARIS HILTON BRIEFLY HELD
On the pitch, Maradona's men have looked happy and settled during four straight wins. But they face their sternest test against a German side also boasting an attacking flair that belies their past reputation for machine-like organisation.
"Argentina can be hurt," said German coach Joachim Loew. "We will not be shivering in the changing rooms."
Few beyond Paraguay's six million people expect them to have any chance of halting talented European champions Spain in the evening clash at Johannesburg's Ellis Park [  ] stadium.
Yet Paraguay have only conceded one goal in open play in their four World Cup games, and Spain are hardly on fire.
Paraguay are unashamedly aiming to nullify the tournament's joint top scorer David Villa [  ], and his strike partner Fernando Torres [  ], who should start again over Fernando Llorente.
"Their way is about creating and ours is more about stopping them and then taking our chances," said goalkeeper Justo Villar.
A shock result for Paraguay would give them a first World Cup semi-final place. A win for Spain would put them within two games of lifting a trophy that has always eluded them despite fielding some fantastically-talented sides over the decades.
In a bizarre twist to a remarkable day's football, Hollywood socialite Paris Hilton [  ] was arrested on Friday in Port Elizabeth after the Brazil-Netherlands game on suspicion of possessing marijuana, but then released without charge.
Police said a friend, not Hilton, was smoking a joint.
"Everything is completely fine...cause I didn't do anything," the celebrity heiress said on her Twitter account. "Everyone was super nice and friendly to me. I love South Africa [  ]! Such an amazing place, especially during the World Cup!"
Source:
© Copyright 2010 Reuters Limited. All rights reserved. Republication or redistribution of Reuters content, including by framing or similar means, is expressly prohibited without the prior written consent of Reuters. Reuters shall not be liable for any errors or delays in the content, or for any actions taken in reliance thereon.