Dunga says Brazil, Dutch will turn on the style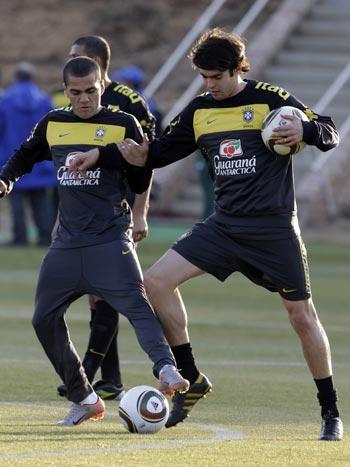 Brazil's [  ] quarter-final with Netherlands on Friday has the potential to be one of the best matches of the World Cup with both teams committed to attack, according to Brazilian coach Dunga.
Dunga, who has complained about previous opponents shutting up shop when facing the five-times world champions, said he expected a more positive approach for the Dutch.
"They are always difficult and beautiful games," said Dunga, who captained Brazil to World Cup wins over the same opponents at the 1994 and 1998 World Cups.
"The two teams try to play football, they have players of high quality, they both want to take risks, they have players who can dribble, they are creative and they look to win. When you have games between teams like this, it's always good.
"When the two teams try to play, it's better for both of them and it makes for a better spectacle. If you have 21 players in midfield, the spaces are reduced and it's easier just to destroy.
"At this stage of the competition, nobody can afford to be over-cautious, you have to play to win," he added..
Brazil beat Netherlands 3-2 in the quarter-finals at the 1994 World Cup and on penalties after a 1-1 draw in the semi-finals four years later.
Dunga, who spent the Beijing [  ] Olympics [  ] griping about the food, pitches and even the number of volunteers two years ago, changed his tune as he poured praise on the South African World Cup organisers.
"Africa has surprised with the organisation, the working conditions are good, there may be one or two pitches with problems but that is normal," he said.
"After all we had read, we expected to find chaos. But things are working just as well as in other World Cups.
"We like the warmth of the public, the affection of the fans. People are treating us with smiles, it's a very good change to come here.
"If you want to find something negative you can. Some people just want to look for defects," he added.
Source:
© Copyright 2010 Reuters Limited. All rights reserved. Republication or redistribution of Reuters content, including by framing or similar means, is expressly prohibited without the prior written consent of Reuters. Reuters shall not be liable for any errors or delays in the content, or for any actions taken in reliance thereon.