Midfield mastery sealed Spanish success: Del Bosque
Bossing the midfield with experienced, talented players was the decisive factor in Spain's deserved 1-0 win over Germany [  ] in the World Cup semi-final on Wednesday, Spain coach Vicente del Bosque said.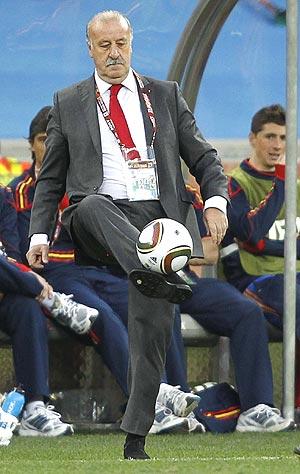 As in their previous matches in South Africa [  ], Spain attacked relentlessly and clung on to the ball as the German midfield struggled to repeat the flowing moves that had crushed England [  ] and the widely fancied Argentina.
"It is always based on the quality of the people in the midfield. It is a good organised midfield and if you have order then you can really showcase individual talent," Del Bosque told a news conference.
"We have great players, excellent players, good substance and that makes everything easier," he said.
"I'm running a group of young men who are very experienced in the world of football."
Man of the match Xavi [  ] was at the heart of Spain's best attacks, spraying the ball to the flanks and firing long penetrative, passes as German heads sagged.
He also delivered the corner that Carles Puyol [  ] headed powerfully past Manuel Neuer to hand Spain their first World Cup final appearance in 13 campaigns.
"We looked for the best way to play, take the ball, keep it, and to keep the ball during the entire match. Our players fulfilled this job in a magnificent way," Del Bosque added.
Xavi praised the performance of his team mates and said the players were comfortable throughout the match.
"I'm very happy. I think it was deserved. The team did a great job. We dominated the match and the Spanish personality imposed itself," he told a news conference.
"We felt very much at ease on the pitch. That's what we want, that's what we are looking for."
Source:
© Copyright 2010 Reuters Limited. All rights reserved. Republication or redistribution of Reuters content, including by framing or similar means, is expressly prohibited without the prior written consent of Reuters. Reuters shall not be liable for any errors or delays in the content, or for any actions taken in reliance thereon.