Ronaldo makes new fashion statement, paints toenails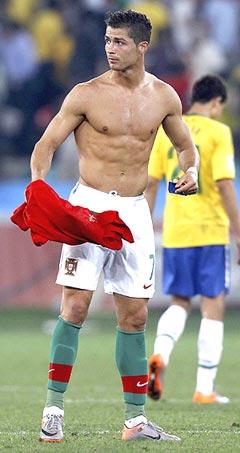 Cristiano Ronaldo [  ] might have become a father lately, but the Portuguese footballer, who is a popular pin-up boy among the gay community, has been is very much in touch with his feminine side.
It's a well documented fact that the Real Madrid [  ] star likes to have his chest waxed, enjoys wearing a tanned skin and has no qualms posing in his underwear.
This time Ronaldo has made a new fashion statement – he has painted his toenails black. The nail-polished star was pictured with girlfriend, Russian underwear model Irina Shayk, at the New York poolside of the Gansevoort Hotel on Wednesday.
Meanwhile, his sister Katia, who will be the caretaker of the baby, has revealed the name of Ronaldo's son. "He's called Cristiano Ronaldo,' she said.
There have also been reports that Ronaldo's planning to expand his CR7 clothing line to include babywear.