Spain's success Barcelona cut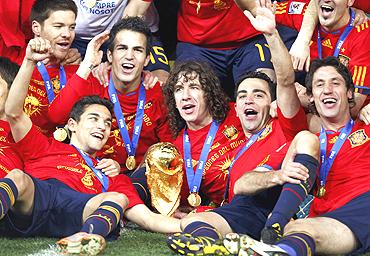 So Spain are the new World champions. The 'tick-tackers', known as the best passers in the game, outlasted the Netherlands in a game that can be best described as scrappy.
And when Andres Iniesta [  ] netted the winner late in extra-time, he couldn't resist the temptation to rip off his jersey and show the world what the goal meant to him.
There was a message on his vest which read: 'Dani Jarque always with us'. It was a tribute to his friend Dani, who collapsed and died during a pre-season tour of Italy [  ] in August 2009 when only 26 years of age.
For Spain, the perennial 'underachievers' tag is now off their back; they proved they can rise to the occasion when it demands.
Spain's success lies in the country's much-talked-about Barcelona club. Ironically, it was a Dutchman called Johan Cruyff who had perfected this tiki-taka kindaa of a game that has become synonymous with Barcelona, where he was manager.
Spain had six Barcelona players in their starting line-up -- Carles Puyol [  ], Gerrard Pique, Andres Iniesta, Xavi [  ], Sergio Busquest and Pedro -- who make a formidable unit. Besides them, there was David Villa [ Images ], who recently moved from Valencia, and their other goalkeeper Victor Valdes [  ], also from Barca.
True, the Spaniards did not dish out artistic football in the final, but neither did the Dutch. There were several cards flashed -- as many as five yellow and one red for Dutch, and four for Spain - but in the midst of all the hard tackling, it was midfield superiority that won Spain the match.
Interestingly, Spain isn't the first team to have a bulk of players from one club. In the 1966 World Cup, Uruguay had several players from Penarol club.
Then, in the 1990 World Cup, Egypt [  ] had seven players from Al-Ahly in their match against the Republic of Ireland, while four years later Italy had as many as eight Milan players -- Alessandro Costacurta, Paolo Maldini, Franco Baresi, Mauro Tassotti, Demetrio Albertini, Roberto Donadoni and Daniele Massaro, playing in the second half during a 1-0 win over Ireland'.
Spain, with seven players from Barca, created a record of sorts by winning the cup with most players from one club. The most players from one club used in a World Cup final was, when West Germany [  ] beat Holland in 1974, and Italy beat West Germany in 1982.
After England [  ] were humiliated by a young Germany, daggers were drawn against the English clubs and their players accused of giving off their best only in the Premier League.
Spain's triumph though has reinstated the fact that playing together does make a huge difference.
Sure, the Dutch, who had many issues -- Robin Van Persie [  ] and Wesly Sniejder had differences as did Dirk Kuyt [  ] and Van Persie, and Van Persie and coach Bert van Marwijk -- will sound their vuvuzelas in agreement!