Where are the Germans in Die Mannschaft?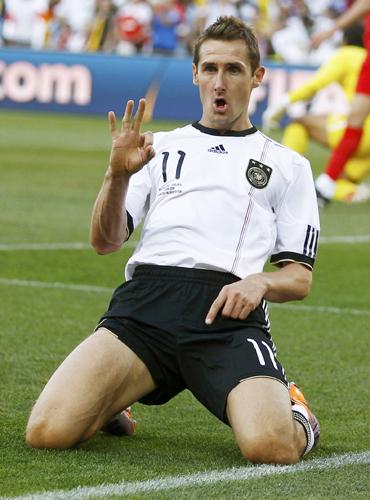 They are the footballing version of the English cricket team.
As many as 11 members of Die Mannschaft's 23-man squad for the ongoing World Cup have their origins in a country other than Germany.
But the Germans are not complaining.
Considering the way Joechim Loew's men have played thus far, there seems no valid reason to complain as well.
Rediff.com looks at the players whose ethnicity has given this young German team a new dimension.
Miroslav Klose
In Miroslav Klose's case, Poland's loss was Germany gain.
Although Polish by birth, Klose holds German nationality and has performed exceedingly well for Die Mannschaft in the last decade or so.
Having scored five goals while helping Germany to the final of the 2002 World Cup, Klose scored the same number while winning the Golden Boot as the tournament's highest scorer in the subsequent edition in 2006.
And having won the League-Cup double with Bayern Munich this season, he opened his account in this World Cup against Australia.
Klose was born in Opole (Poland) in a sporting family.
His mother, Barbara Jez, was a member of the Poland women's national handball team, while his father, Josef Klose, played professional football.
His parents left the then communist Poland in 1978 and since his father was from an ethnic German family, they were permitted to settle there.
The rest, as they say, is history, with regard to Miroslav Klose's career.
Image:
Miroslav Klose
Photographs:
Reuters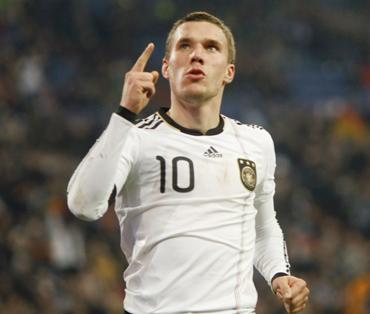 Lukas Podolski
Another Polish success story in Die Mannschaft, Lukas Podolski's story is similar to Klose's.
The 25-year-old was born in the Polish town of Gliwice.
His father, Waldemar, was a half-Polish and half-German who played professional football, winning amongst others the Polish championship in 1980.
His mother, Krystyna, like Klose's mother was a former member of the Polish national handball team.
In 1987, his family emigrated from Poland to the then West Germany. And though Podolski was eligible to play for Poland, he has been quoted as saying that the Polish football association never cared about him until he started playing for the German under-21 national team.
By then Podolski had already decided he would be representing Germany.
Image:
Lukas Podolski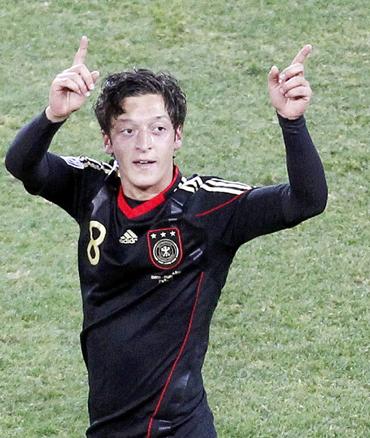 Mesut Ozil
One of the most talented players in the present German squad, Ozil, unlike Klose and Podolski, was born in Germany (at Gelsenkirchen).
However, the 21-year-old Werder Bremen player is of Turkish ancestry, with his family originally from Zonguldak in Northern Turkey.
But in 2006, when Ozil was called up for the Germany under-17 team he had no reservations whatsoever.
He has been a regular member of the team since 2007, and in June 2009 was instrumental in a 4-0 win over England that handed Germany the under-21 European Championship.
His debut for Die Mannschaft happened in February 2009, during a friendly against Norway, and he scored his first goal in his third appearance, against South Africa in September.
Image:
Mesut Ozil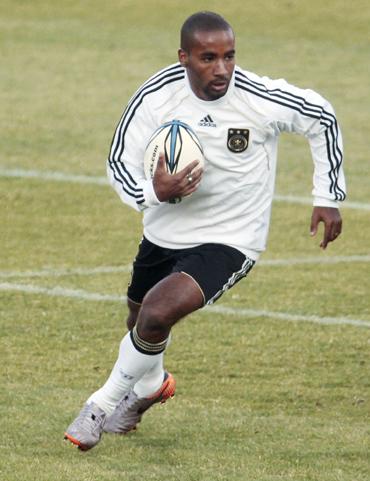 Cacau
Claudemir Jeronimo Barretto.
Yes, that happens to be Cacau's actual name.
Although he was born in Brazil, the national team never called up Cacau.
Meanwhile, in Februray last year, the VfB Stuttgart striker became eligible to play for Germany after he acquired a German passport, having lived and played in Germany for more than eight years.
The 29-year-old made his international debut in May last year (against China) and opened his account with the German national team this May, scoring a brace in a 3 0 win over Malta.
Coming on as a substitute against Australia, in Germany's opening match of the 2010 World Cup, Cacau scored his first international goal, which happened to be side's fourth in the match.
Image:
Cacau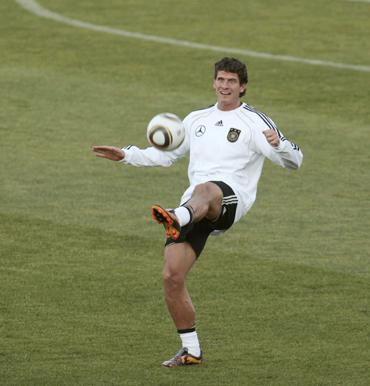 Mario Gomez 
Mario Gomez's father is a Spaniard, hailing from Granada, and his mother is German.
The 24-year-old had both nationalities, but decided to play for the German national team at the age of 17.
He made his international debut in February 2007 against Switzerland and has been a regular member since.
Gomez joined Bayern Munich at the start of last season, after six successful seasons at VfB Stuttgart, and won the domestic double in his very first season with the four-time European champions.
Image:
Mario Gomez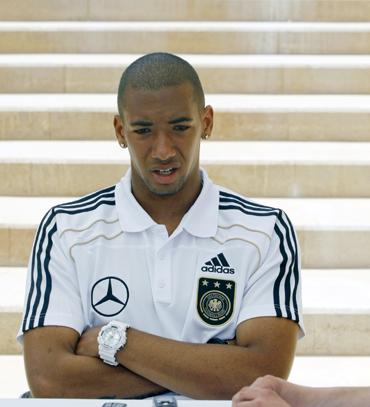 Jerome Boateng
Jerome Boateng's case can be termed as brother against brother.
His half-brother, Kevin-Prince, is playing for Ghana.
When Germany faced Ghana in the Group D encounter it marked the first instance of two brothers in a face-off at the World Cup.
Boateng has a German mother and a Ghanaian father and his paternal uncle is a former Ghana international.
Last month, the Hamburg central defender agreed to a 10-million-pound five-year deal with Roberto Mancini's Manchester City.
Image:
Jerome Boateng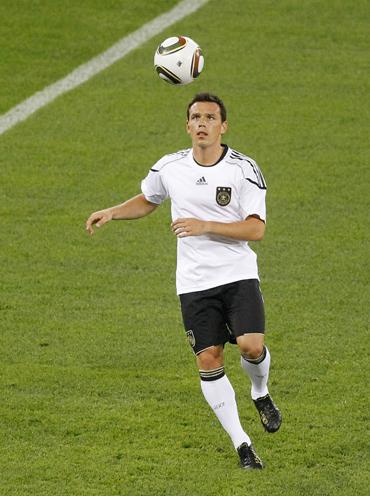 Piotr Trochowski
Piotr Trochowski is another Polish-born German international.
The attacking midfielder was born in Tczew (Poland), but his family left for Hamburg when he was five years of age.
Since Trochowski was born in Poland, he was eligible to play for Poland.
And his mother sent several letters to the Polish Football Association regarding his availability but the former never showed any interest.
Disappointed, Trochowski chose to play for Germany.
And it has so far turned out to be a good decision.
Image:
Piotr Trochowski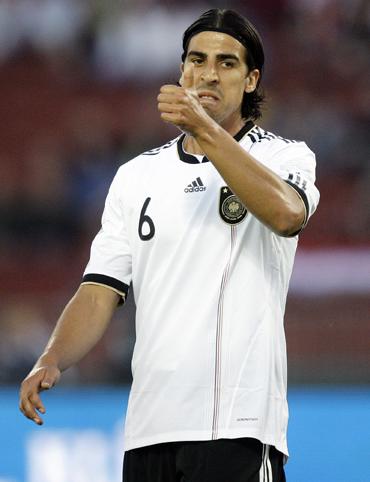 Sami Khedira
Sami Khedira's father is from Tunisia.
Had he chosen to play for Tunisia he would have been on the national team for a good few years now.
But Khedira never even thought about that option, saying, "Manners in Tunisia are much looser than in Germany. I can't really relate to their mentality."
Instead, the Stuttgart-born midfielder chose to play for Germany and captained the side to victory in the 2009 European under-21 championships.
He started in Germany's opening game in the ongoing World Cup against Australia as a replacement for captain Michael Ballack.
Image:
Sami Khedira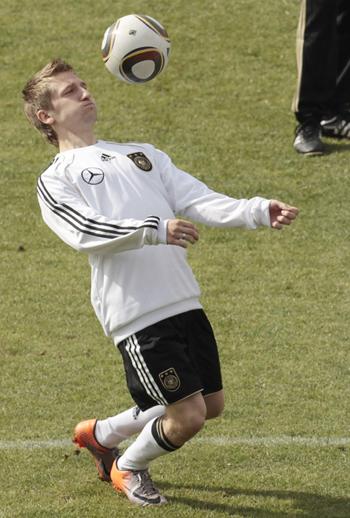 Marko Marin
Marko Marin is of Bosnian-Serb origin.
The 20-year-old was born in Gradiska (Bosnia and Herzegovina) but moved to Germany as a two-year old in 1991 along with his parents.
It was announced in May 2008 that Marin would be included in German national squad and made his debut in a 2-2 draw against Belarus.
The Werder Bremen winger has since been part of the German squad.
Earlier this year, Marin was quoted as saying that he never received a call from Bosnia and Herzegovina, so he decided to play for Germany.
Image:
Marko Marin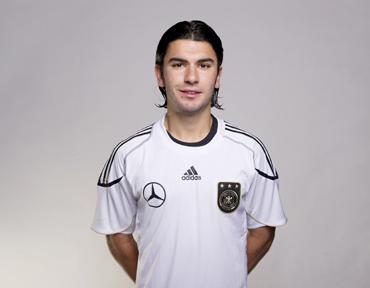 Serdar Tasci
Serdar Tasci plays as a right back in Die Mannschaft.
His Turkish descent and German birthright meant he was eligible to play for either Germany or Turkey.
However, in October 2006 Tasci decided to pursue a career for Germany.
He made his international debut for Germany in August 2008 in a friendly against Belgium in Nuremberg.
Image:
Serdar Tasci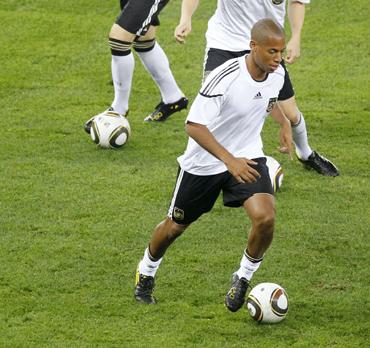 Dennis Aogo
Dennis Aogo was born in Karlsruhe (Germany) but since his father was Nigerian, he was eligible to represent either.
However, after turning down several invitations by the Nigerian Football Association he declared his desire to represent Germany.
The 23-year-old, who plays for Hamburger SV, is a part of Joachim Loew's 23-member squad in South Africa but hasn't so far found a place in the playing eleven.
Image:
Dennis Aogo