World Cup final pitch invader fined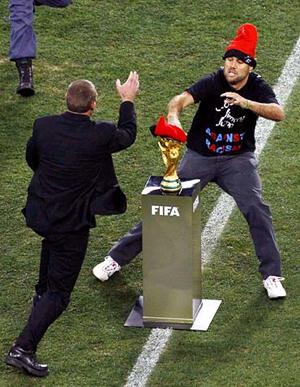 The Spanish man who ran onto the pitch at the World Cup final and tried to place a hat on the trophy was fined 2,000 rand ($260) by a South African court.
Jaume Marquet Cot, 34, also known as 'Jimmy Jump' is a habitual pitch invader. Cot sprinted onto the field at Soccer City ahead of kickoff at Sunday's final, but was brought down by a punch from a security official just before he could get to the trophy, which was near the players' tunnel. Cot had been trying to place a traditional red barritina hat, which symbolises freedom, on top of the World Cup trophy.
Six other people were arrested at the World Cup final for attempted pitch invasions after the game, a police spokesperson said.a