Qatar, the smallest nation ever to host the World Cup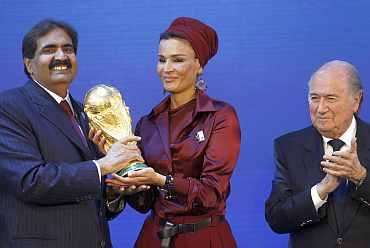 F

IFA gave its ultimate recognition to emerging markets on Thursday by awarding the 2018 and 2022 editions of the prestigious and lucrative World Cup soccer finals to Russia and Qatar, both new hosts.
Russia won the right to put on the 2018 World Cup, the first time it will have been staged in Eastern Europe after 10 editions in the western half of the continent.
Qatar, which has never qualified for the World Cup finals, will stage the 2022 tournament, a first both for the Middle East and for an Arab country. It will also be the smallest nation ever to host the World Cup.
Both new hosts are major energy producers and both had planned larger and costlier investment in infrastructure and new stadiums than all their respective rivals.
FIFA President Sepp Blatter, who announced the winners after a vote of his executive committee in the Swiss financial capital, said: "We go to new lands.
"Never has the World Cup been in Russia and Eastern Europe, and the Middle East and Arabic world have been waiting for a long time so I'm a happy president when we talk about the development of football," he added.
Image:
Sheikha Moza Bint Nasser al-Misnad reacts after the announcement that Qatar is going to be host nation for the FIFA World Cup 2022
Photographs:
Reuters
Source:
© Copyright 2010 Reuters Limited. All rights reserved. Republication or redistribution of Reuters content, including by framing or similar means, is expressly prohibited without the prior written consent of Reuters. Reuters shall not be liable for any errors or delays in the content, or for any actions taken in reliance thereon.