Blatter wins final FIFA term, pledges reform
Sepp Blatter [

Images

] was re-elected unopposed as FIFA [

Images

] president on Wednesday, promising to use his final term to radically reform soccer's ailing world governing body.
Blatter won the backing of 186 of the 203 voting delegates after brushing aside a late challenge when federations agreed to let the election go ahead despite the lack of a rival and a series of scandals that have damaged the organisation's credibility.
Even as he returned to the hall to receive flowers and the applause of the majority of voters, Blatter was facing fresh problems after Germany's [

Images

] influential Football Association called for an investigation into the process that saw Qatar awarded the 2022 World Cup.
Blatter, the 75-year-old Swiss who has run FIFA since 1998, did not address that issue directly but said he was determined to clean up FIFA from within.
"We will put the ship back on course in clear transparent waters," a triumphant Blatter told delegates.
In reference to the ongoing accusations of corruption, Blatter had earlier said: "We have been hit and I personally have been slapped."
With Qatari Mohamed bin Hammam having dropped out of the race -- he was subsequently suspended pending an inquiry into bribery claims -- Blatter effectively sealed victory when England's [

Images

] motion for a postponement was defeated by 172 votes to 17.
The actual election was a formality.
INNER CIRCLE
Blatter, who has repeatedly said this will be his final term, traced FIFA's problems back to last year's vote, when the inner circle of executive committee members chose Russia [

Images

] to host the World Cup in 2018 and Qatar in 2022.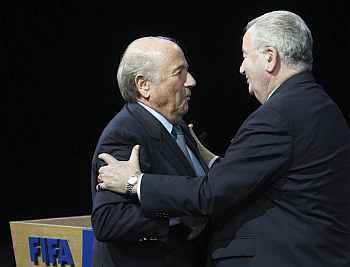 He promised on Wednesday to shift power to award future World Cup hosting rights to FIFA's full 208-member congress, though the 2026 World Cup will not be up for grabs for another six or seven years.
He also promised a tougher "zero tolerance" policy from the ethics committee, which he said would be "reinforced and professionalised", and said he wanted a special one-day congress to examine current accusations against FIFA.
"Where does all this evil come from which is now in FIFA," he asked before answering his own question.
"It has to do with the popularity of our competition, the flagship competition, the World Cup. The attribution of the World Cup... kicked off a wave of accusations, proposals, allegations, criticism and they are still coming."
One of them is that Qatar may have "bought" the World Cup, an accusation the Qatar bid has denied.
German Football Association chief Theo Zwanziger said FIFA could not afford to ignore the suspicions, which have been denied by Qatar's bid team.
"There is a considerable degree of suspicion that one cannot simply sweep aside," Zwanziger told German television.
WATERSHED MOMENT
FIFA is facing what general secretary Jerome Valcke agreed was a "watershed moment", with the crisis being compared to the Salt Lake City corruption case the International Olympic [

Images

] Committee had to deal with in 1998.
Since then the IOC has strictly controlled the bidding process, banning all members from travelling to candidate cities unless they are part of the official evaluation commission.
Blatter will need to provide more detail if he is to satisfy critics he is equally serious about reform.
Blatter has led FIFA through a period of unprecedented prosperity on the sale of TV rights and sponsorship.
The financial report submitted to delegates on Wednesday showed reserves of $1.3 billion, with TV rights for the 2010 World Cup in South Africa [

Images

] having brought in $4.2 billion between 2007-10.
Behind the money and the glitz, however, the game's reputation has been put under the microscope after a spate of corruption allegations and the suspension of Bin Hammam and fellow executive committee member Jack Warner.
The two men, who are facing an investigation into bribery claims in the election, have denied any wrongdoing.
In another twist, Chuck Blazer -- an American whose whistle-blowing led to the suspension of Bin Hammam and Warner -- was sacked on Tuesday from his position on CONCACAF.
An hour later, that organisation, which runs soccer in North and Central America and the Caribbean, declared the dismissal invalid but the split deepened on Wednesday as acting president Lisle Austin insisted Blazer had indeed been lawfully dismissed.
The internal chaos magnified the drama surrounding the FIFA Congress in Zurich.
Swiss President Micheline Calmy-Rey called for swift FIFA reform, telling delegates FIFA needed to "take seriously" the criticisms voiced about corruption.
"What is important is to restore full confidence in the organisation; let not money spoil your ideals," she said.
FIFA has also faced criticism from four of its six top-tier sponsors concerned about possible damage by association.
Source:
© Copyright 2011 Reuters Limited. All rights reserved. Republication or redistribution of Reuters content, including by framing or similar means, is expressly prohibited without the prior written consent of Reuters. Reuters shall not be liable for any errors or delays in the content, or for any actions taken in reliance thereon.