FIFA ruled out punitive action against Israel's football association, after meeting Israeli and Palestinian leaders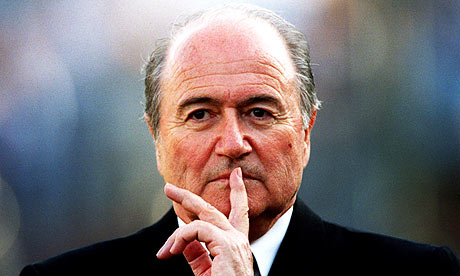 Jerusalem (AFP) - FIFA president Sepp Blatter on Tuesday ruled out punitive action against Israel's football association, after meeting Israeli and Palestinian leaders to try and end a bitter dispute.
Officials have threatened to call once again for Israel's expulsion at the FIFA Congress in Sao Paolo, which will take place on the sidelines of the June-July 2014 World Cup in Brazil.
"I separate politics and sport," Blatter said at a joint news conference with Israel Football Association head Avi Luzon in Jerusalem.
"I don't know on what items the FIFA Congress should take action against the IFA, if they are (acting) according to the statutes and regulations of FIFA.
"So far, we haven't seen any breach of regulations... until then, who could take action against somebody who is a good member of FIFA? I can tell you that your federation is a good standing member," he said.
Blatter said a memorandum of understanding had been presented to Israel and the Palestinians, and urged them to sign it when the FIFA Congress meets, but gave no details of the document.
Blatter met Prime Minister Benjamin Netanyahu earlier on Tuesday, and Palestinian president Mahmud Abbas in the West Bank city of Ramallah on Monday.
Abbas urged the FIFA to "hold to account" the IFA should it restrict the movement of Palestinian players -- a charge repeatedly alleged by the Palestinian Football Association.
"The Israeli government is placing obstacles in the way of the PFA's activities, in contravention of international law and the regulations of FIFA," Abbas said.
"If the Israel Football Association remains subservient to the government, it must be held to account."
Israeli and Palestinian football chiefs shook hands in September in landmark talks brokered by FIFA.
The meeting came after a dispute over Israeli entry restrictions on players from Arab nations which led to the delay of a youth tournament hosted by the PFA.
In response, the PFA urged FIFA to suspend Israel from international football, charging that Israeli policies were smothering the development of the game in the West Bank and Gaza Strip.
Israel says football facilities are sometimes used by Palestinian militants to fire rockets at its cities and warns that sport has been used as a tool to disseminate anti-Israeli propaganda.
FIFA created a task force in July to address the Israeli-Palestinian dispute.
Blatter said the sides were so far cooperating in efforts to solve the dispute.
"Both of these associations have designated a liaison officer (who) is working every week, every three or four days together," he said in English.
"They have obtained already good results, but in the view of the Palestinians, not enough," he added, without elaborating.