FIFA World Cup a boon for sponsors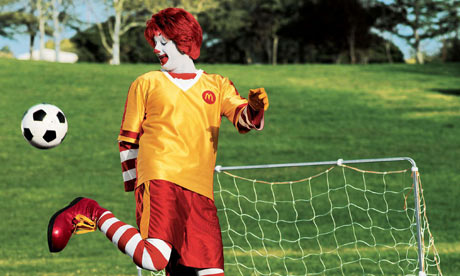 SINGAPORE: The world's biggest football tournament kicks off in just over two weeks, and experts said the FIFA World Cup 2014 in Brazil could see record-breaking digital and social media activity -- something that will play to the advantage of global marketers.
McDonald's -- an official sponsor of this year's World Cup -- is stepping up marketing efforts in the digital space.
It will be turning its fry box into a virtual football pitch as part of its global World Cup promotion. The design of its medium and large fry boxes has been changed to feature 12 original street artworks.
These designs will be available in Singapore from June 5.
When paired with the McDonald's GOL! Mobile App, it triggers a football pitch in an augmented reality (AR) scene on the device and players can try flicking the ball into the goal.
McDonald's said scores are tallied globally each day and the winning country will be reflected within the app.
Yvonne Low, senior director of marketing at McDonald's Singapore, said: "With the millennium generation, social media and new technology, this is something we are going into... To build brand value is about staying relevant and engaging with our consumers."
McDonald's will also be screening all the World Cup matches "live" at 41 of its 24-hour outlets in Singapore -- a 20 per cent increase from the last World Cup in 2010.
McDonald's Singapore saw a 10 per cent increase in sales in the last World Cup period at the 34 outlets that screened matches and its delivery service.
Global payments technology company VISA also benefited from its partnership with FIFA -- a deal that has been renewed until 2022.
The company said back in 2010, spending by international visitors on Visa-branded cards hit US$176 million in South Africa during the lead-up and group stages of the tournament.
That is an increase of 65 per cent compared to the same period in 2009.
Fernando De Matos, head of sponsorships for Asia Pacific, Central Europe, Middle East and Africa at Visa Worldwide, said: "We tend to see that on average, a person is more reactive, 20 per cent more positive than in a normal promotion with VISA.
"So whenever it is linked to something as strong as the World Cup or the Olympic Games, we do get a 20 per cent better return on investment and usage from our consumers."
"By the time the World Cup starts, we think we would already got our money back from the investment. We activated so much, in so many countries around the world on the build-up to the World Cup, that by the time it starts, we think the investment would have paid for itself."
In Singapore, Visa ran a World Cup promotion to drive greater use of VISA Paywave -- a mode of contactless payment. It said the promotion, which has since ended, attracted over two million entries.
Experts said such tie-ups build brand awareness and the growth of social media will make sports sponsorships more entertaining and engaging.
Giri Jadhav, chief operating officer of Ogilvy & Mather (Singapore), said: "Four years back, we didn't have so many digital sites, so much social media. Today on average, each one of us is exposed to three to four screens.
"With all the media explosion, I can say it is more value for money for the advertisers. In today's terms, it is estimated to have gone up by around 130 per cent.
"You are talking about almost 11 million people going to look at this on mobile screens, it's never happened before and that gives brands more and more opportunities to engage in new channels."
The 2014 FIFA World Cup is expected to be watched by over six billion TV viewers across the world.
- CNA/ac